| | | |
| --- | --- | --- |
| | | |

The Last Revelation, Seal and Termination of the Quran
=
Akhir AlWahey, AlKhtm, wa Nihayat Kalimat AlQuran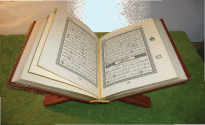 (Slow loading on a separate page!) Listen to the last speech of the Prophet Muhammad
after the opening of Mecca in an excerpt from the movie "The Message" ©1977 Tarik Film Distributors; Starring Anthony Quinn; Produced and Directed by the late Moustapha Akkad; (180 minutes). (Note: It opens on a new page).
Q: What were the last words revealed in the Qur'an which the Prophet Muhammad peace be upon him recited in his last speech before his death?
A: --- This day* I (Allah) have perfected for you your Religion and completed upon you My Grace and have accepted for you Islam (submission to Allah as the One and Only God) as religion ---.
Translation of: Ayah 3, Surat AlMa'idah.
* During the last Hajj for the prophet, peace be upon him, before his death peace be upon him.
Words: AlYowm = This day, Akmaltu = I (Allah) Perfected, Deen = Religion, Atmamtu = I completed, Ni'mah = Grace - Blessing - Favour, Radheetu = I have accepted - I am pleased with.